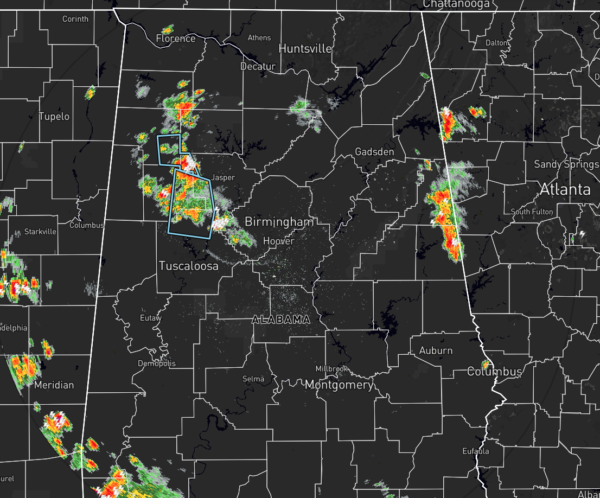 At 6:10 pm, radar shows only a few scattered thunderstorms out there in Central Alabama. The larger and strongest storm on the map is located over portions or Walker, Fayette, and Tuscaloosa counties, where there is the potential for dime size hail and strong winds up to 50 MPH, along with heavy rain and frequent cloud-to-ground lightning. This storm was moving to the west at 15 MPH.
The second cluster of storms is located in the eastern parts of the area over portions of Cleburne and Randolph counties, but at this point, these are not producing any strong gusty winds or hail. A good bit of cloud-to-ground lightning and heavy rain is occurring, so move indoors if you are just to the west of these storms.
Other than a dying shower in the extreme northern parts of Blount County and a very small shower over the extreme southeastern part of Lee County, the rest of Central Alabama is high and dry. Temperatures are still mighty warm with lower 80s to the lower 90s showing up across the area except for the rain-cooled air in Haleyville where it is 73 degrees. Tuscaloosa and Montgomery will still at 90 degrees. Birmingham was at 82 degrees.
Once we reach sunset, this activity should really start to quiet down and dissipate, but a stray shower or two may linger for an hour or so. The good news for those heading to downtown Birmingham to see "Thunder On The Mountain" at 9:00 pm, the latest data shows that it should be dry but remaining very muggy. The temperature will be around 79 degrees with a 72-degree dewpoint. It's "Air That You Can Wear."
Category: Alabama's Weather, ALL POSTS
About the Author
(Author Profile)
Scott Martin is an operational meteorologist, professional graphic artist, musician, husband, and father. Not only is Scott a member of the National Weather Association, but he is also the Central Alabama Chapter of the NWA president. Scott is also the co-founder of Racecast Weather, which provides forecasts for many racing series across the USA. He also supplies forecasts for the BassMaster Elite Series events including the BassMaster Classic.
Scott Martin
2020-07-04 19:27:08
Read more from source here…