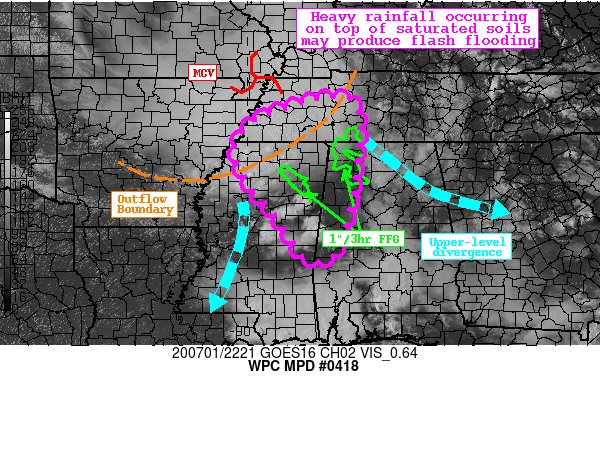 The western portions of North/Central Alabama could see showers and storms that produce heavy amounts of rainfall, especially when an outflow boundary moves into the area which will enhance those heavy rainfall chances. A good portion of this area has already seen a good bit of rain earlier today, so it wouldn't take much for flash flooding issues to arise again in those same locations.
Here is the Mesoscale Precipitation Discussion text from the NWS WPC:
SUMMARY
Showers and thunderstorms developing in a region of mid-level divergence will merge with convection associated with an approaching MCV this evening. Soils across the region are preconditioned from earlier heavy rainfall, so any additional rain could produce flash flooding.
DISCUSSION
Regional radar mosaic this afternoon depicts increasing coverage of showers and thunderstorms across the northern half of Mississippi. Upstream of this development, an MCS associated with a remnant MCV is dropping southeast from AR/MO, with convection regenerating along the leading outflow boundary. As this outflow continues to progress to the south, it will merge with airmass thunderstorms across MS and western AL to enhance the rainfall through the evening hours.
The thermodynamic environment is primed for heavy rainfall with PWs sampled by GPS TPW observations between 1.75-2″, 1.5 to 2 standard deviations above the climo mean. The 22Z RAP analysis indicated a pool of extreme instability across MS, with SBCape approaching 6000 J/kg south of the MCS, and a robust instability gradient from north to south into TN. Aloft, differential vorticity advection was increasing from the NW associated with the convectively enhanced shortwave above the MCV nearing northeast AR, while modest directional jet-level divergence was occurring in response to weak flow over MS. The combination of these features despite modest 20 kts of moist inflow was producing ascent into the extreme environment, resulting in widespread showers and thunderstorms.
As the evening progresses, convection will persist in the environment ahead of the MCS before it gets overrun by the approaching outflow. Recent CAMs including the HREFmean, 20Z HRRR, and 18Z HRRRe depict a swath of 1-2″ of rainfall, with isolated amounts above 3″. These higher amounts are likely where some back building or mergers can occur ahead of the MCS, followed by additional rainfall from the convection along the outflow itself. HREF probabilities indicate a 30-60% chance of 3-hr exceedance, due to rain rates which will likely exceed 2″/hr at times. Much of northeast MS/northwest AL has received significant rainfall in the past 24 hours, with MRMS estimating pockets of over 8″. This has compromised the soils and led to FFG which is as low as 1″/3hrs. While the environment becomes less robust for heavy rainfall further east into AL, a flash flood risk does exist for the next several hours, with the greatest potential across the portions of MS and extreme NW AL with the exceptionally low FFG.
Category: Alabama's Weather, ALL POSTS, Severe Weather
About the Author
(Author Profile)
Scott Martin is an operational meteorologist, professional graphic artist, musician, husband, and father. Not only is Scott a member of the National Weather Association, but he is also the Central Alabama Chapter of the NWA president. Scott is also the co-founder of Racecast Weather, which provides forecasts for many racing series across the USA. He also supplies forecasts for the BassMaster Elite Series events including the BassMaster Classic.
Scott Martin
2020-07-01 18:55:08
Read more from source here…