Joe Biden is president, but Donald Trump's election lies are still being amplified by his media allies
4 min read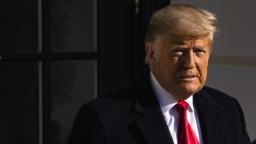 USA Today and Suffolk U conducted a survey of 1,000 Trump voters, identified via 2020 polls, in the past week. The results reaffirm that Donald Trump's big lies are now part of the bedrock of the Republican Party. Riot denialism, for example:
"Most Trump voters embrace a version of events on Jan. 6 that has been debunked by independent fact checkers and law enforcement agencies," USA Today's Susan Page wrote Sunday. "Asked to describe what happened during the assault on the Capitol, 58% of Trump voters call it 'mostly an antifa-inspired attack that only involved a few Trump supporters.' That's more than double the 28% who call it 'a rally of Trump supporters, some of whom attacked the Capitol.' Four percent call it 'an attempted coup inspired by President Trump.'"
Trump sometimes told the public not to believe their eyes and ears — and some of his fans evidently agreed. The day of MAGA terror at the Capitol has been flushed down the memory hole by Trump's base. "Only 4% say the impeachment trial made them less supportive of Trump; 42% say it made them more supportive," Page wrote. "Fifty-four percent say it didn't affect their support."
The Big Lie about Trump winning the election, and Biden "stealing" it, largely lives on because some people want to believe it and because a constellation of Trump propaganda sources pump out a diet of dishonest info that props it up. But it is also important to see how the Big Lie is still being rinsed and repeated on respectable TV shows.
The new "Lost Cause"
A "classic disinfo campaign"
"This isn't about finding a coherent narrative," Starbird wrote. "It's about creating doubt via throwing voter fraud spaghetti at the wall. And quite unsurprisingly, the next move is to use these same false and misleading narratives for future voter suppression, making it harder for people to vote next time." CNN's Zach Wolf recently wrote about that…
Tale of two GOPs
Saturday night on "Judge Jeanine," Lara Trump said her father in law "is the head of the Republican Party. He is really the person that everyone will continue to turn to in order to help them get across the line — whether we are talking about 2022 or beyond."
Sunday morning on "Meet the Press" Chuck Todd asked Rep. Will Hurd, "What role should former President Trump have in the future of the Republican party? Or should he not have a role?" Hurd said "I think very little, if none at all."
Another takeaway from the new poll…
"In a USA TODAY/Suffolk Poll in October 2016, 58% of Trump voters said Fox was their most trusted source of news. In the new poll, that drops to 34%," the aforementioned Susan Page reported. "Trust has risen in two relatively new outlets that have made their reputations by championing Trump. Newsmax is the most trusted among 17% of Trump voters, followed by 9% for" One America News.
>> Here's what Suffolk's David Paleologos said: The findings could reflect a "a seismic shift in the landscape of trusted news sources for conservatives…"
2021-02-22 02:29:05

All news and articles are copyrighted to the respective authors and/or News Broadcasters. LC is an independent Online News Aggregator

Read more from original source here…